Fitness and Wellness Gift Card
Make you gift go further with a TruBe gift card. Enjoy personalised fitness and wellness sessions delivered by London's finest selection of Trainers and Therapists.
Buy Gift Card
Perfect for anyone who:
in need of some 'Me Time'

wanting to boost their fitness/wellbeing

preparing for an event

looking to experience something new
With the TruBe gift card you have the freedom to book multiple fitness and wellness sessions convenient to your schedule. Your favourite TruBe trainer / therapist will come to you, whether that be in comfort of your home, or in one of London's finest parks, you decide.
All TruBe Trainers and Therapist Included
Each TruBe trainer and therapist is highly qualified, experienced and have been verified by the the TruBe team.
All Disciplines Included
Explore a range of disciplines including personal training, massage, yoga and more!
Share with up to two friends!
You have the option to share your TruBe experience with up to two friends!
How TruBe works
Bring your bookings to life with 3 simple steps. Booking a personal trainer has never been so simple.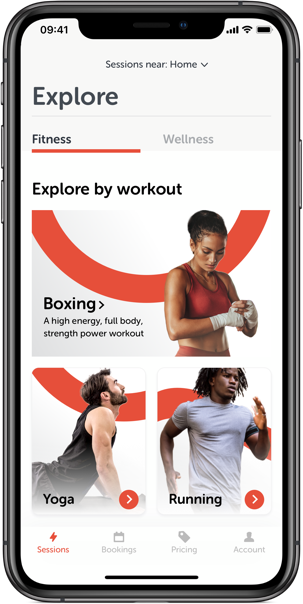 Find a personal trainer and massage therapist in seconds. Switch between 12 specialised disciplines including Yoga, boxing, pilates, massage and more.
Pick a time, date and enter your chosen location. Choose a personal trainer or therapist for the same day, or up to 90 days in advance.
Once you have found your fitness trainer you can confirm in seconds. With TruBe you pay as you train, no contracts, no joining fee and no more wasted memberships.
Choose your gift card
Choose the number of sessions you would like on your gift card and proceed to checkout.
Common questions
What is a TruBe gift card?
The TruBe gift card can be used to book any of the TruBe Disciplines with any of the available TruBe trainers/Therapists. You will receive the gift card through the post, along with an email receipt to confirm your purchase.
---
How do I use my gift card?
Your TruBe gift card will contain a unique code, this code will need to be applied to your single session bookings. You will be prompted to add a 'Promo Code' before you confirm the booking.
---
Is TruBe only available in London?
Yes, TruBe only covers London (inside the M25)
---
How to download the TruBe app
The TruBe app is free to download on all iOS devices, the app can be found in the app store or via the TruBe website. If you have an Android, you can make booking as normal through the TruBe Webpage, trubeapp.com.
How to Book
Enter the time, date, location and discipline to the booking page of the App/ Website. Here you can explore through the available trainers/therapists and select your favourite. Select the option to 'Continue booking' from your chosen profile. Add your personal promo code to the confirmation page and when you are happy, tap 'Confirm Booking' to complete your request. Your chosen trainer/therapist will then confirm you booking or look to offer an alternate time request if required.
---
Is there an expiry date?
All gift cards expire one year from the date of purchase. Any unused sessions are non-refundable.
---
Can I cancel my gift card?
All gift cards are non-refundable once purchased, if you have any questions get in touch with the TruBe customer service team, they will be able to answer any queries you may have.