How TruBe works
Bring your bookings to life with 3 simple steps. Booking a personal trainer has never been so simple.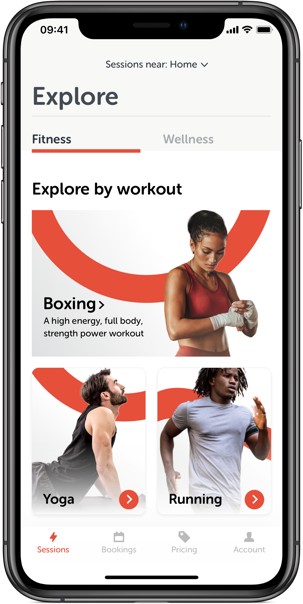 Find a personal trainer and massage therapist in seconds. Switch between 12 specialised disciplines including Yoga, boxing, pilates, massage and more.
Pick a time, date and enter your chosen location. Choose a personal trainer or therapist for the same day, or up to 90 days in advance.
Once you have found your fitness trainer you can confirm in seconds. With TruBe you pay as you train, no contracts, no joining fee and no more wasted memberships.
Inclusive pricing. Clear and consistent pricing with the freedom and flexibility to access all aspects of TruBe. Cash-free payments allow you to keep track of your spending. Purchase a TruPack to receive discounted sessions for you and up to two friends.
View the packs
Quality guarantee. Each personal trainer and massage therapist has been hand-selected and verified. With TruBe you can trust that you are booking with the best personal trainers and massage therapists in London.
View trainers and therapists
More than an app. As part of the TruBe community, you can book a free consultation with one of TruBe's in-house specialists. Receive recommendations based on your goals, preferences and location. Stay on track with personalised session feedback from your personal trainer/ massage therapist.
Book free consultation
Free Consultation
Whether you will be focusing on weight loss, body conditioning, sleeping pattern or stress levels, this complimentary offering will help get you started.
A member of the TruBe team will recommend a personalised workout schedule and will help you incorporate wellness disciplines into your routine.

Find out more about the TruBe trainers and mobile massage therapists and receive personalised recommendations based on your goals.

The consultation is a complimentary service consisting of a half an hour phone call with one of TruBe's in-house specialists.
TruBe Benefits
Explore profiles, disciplines and locations. Read personal trainer reviews and compare ratings.
Fitness and Wellness professionals
Book with confidence, your session will be conducted by a fitness and wellness specialist.
Equipment provided
Your personal trainer/ massage therapist will provide all necessary equipment required for you session.
Goal orientated sessions
Each TruBe personal trainer and massage therapist will create a personalised programme based on your goals.
Secure Payments
Pay-as-you-go or purchase a selection of sessions with a TruPack. Receive a digital receipt and a confirmation email for each purchase.
Split the cost
Share your TruBe experience by splitting the cost of your TruBe fitness and wellness sessions with up to 2 friends.
Vary your sessions
Experience a range of disciplines, personal trainers and therapists. Choose your intensity and receive post workout/ massage notes.
Fantastic experience
I had a fantastic experience with TruBe- my trainer really listened to me and targeted the areas I wanted to work on. He was friendly and very knowledgeable! Highly recommend this amazing app!
Fantastic experience
TruBe trainers are fun, enthusiastic and very knowledgeable! Such a great resource for anyone wanting to get fit but not sure how to or what kind of exercise they like. So many different things to try and extremely flexible!
Great resource for anyone
The instructors and organisers have been consistently helpful and go above and beyond to ensure the service we offer to our members is consistent yet adaptable when we need it to be. I would without a doubt recommend TruBe.